Kids Contour Back - Features and Benefits
Designed specifically for children. It has a low profile contour and the heioght adjusts as the child grows.
What's Included:
Two-piece lightweight aluminum shell (height adjustable)

Dual density foam back cushion


Breathable stretch fabric cover

Installation hardware - QuickFit Mounting System
Features:
The height can be easily and steplessly adjusted with infinite heights between 8" and 12.5"' (varies):
10" model: 8-10.5" / 20-27cm

12" model: 9-11.5" / 23-29cm

14" model: 10-12.5" / 25-32cm
Headrests with hardware also available

Outer cover made from b

reathable, moisture resistant washable spacer fabric with 'Silverplus' antimicrobial protection




Optional swing away, contoured or fixed positioning lateral supports available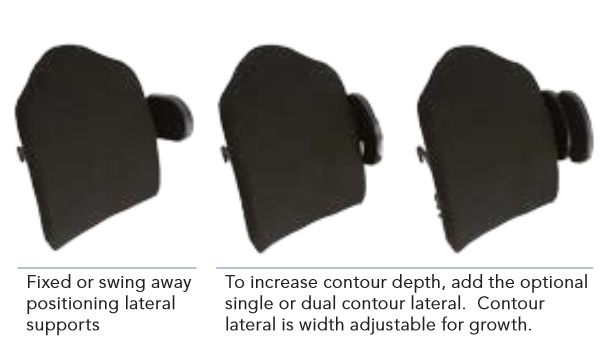 Hardware:
Quickfit Mounting Hardware - quick and easy to adjust while client is in the chair

50 degrees of angle adjustment

5" of depth adjustment: 2.5" in front and 2.5" behind back canes.

Fits metric and imperial tubing including, 1" (2.5cm), 7/8" (2.2cm) or 3/4" (1.9cm) back canes without shims

Clamps open wide for installation/removal without taking them apart.

Quickfit Multi-clamp allows clamp to be installed where a smaller tube is inserted into a larger tube, ie. 3/4" (1.9cm) inside 1" (2.5cm)

Fits 3 widths of chair by adjusting the mounting pins

Provides rotation adjustment for pelvic or trunk rotation.

One hand quick release for easy removal to fold chair or transport.
Weight limit:
136kg / 300lbs
Product weight:
10" complete: 1.5kg

12" complete: 1.6kg

14" complete: 1.8kg

Product code:
NHAKCB10/8-10.5
NHAKCB12/9-11.5
NHAKCB14/10-12.5

Also in nxt Seating Series:
HA Active Contour Back (3" contour)

HA Support Contour Back (5" contour)

HA Plus Contour Back (7" contour)
Available in

10", 12", 14"