Shear Comfort DiabPro Boots - Features and Benefits
The DiabPro has a narrower sole width compared to other Shear Comfort footwear, and has a posted support at the heel. This boot has a slimline design that makes it perfect for everyday use. The narrower sole and reduced bulk gives the boot a sleek look, and is designed for active users who use the boots when walking around the house or outside.  Two Velcro straps fasten the boot securely across the top and can be adjusted to accommodate swelling.

Seams are placed on the exterior for skin protection and softness, and the sole can be built up with a rocker pad if required to assist in adjusting the gait pattern. Sheep's wool accommodates all foot shapes by moulding around the foot, adding stability to your everyday walking and protecting delicate skin from friction. All Shear Comfort products are machine washable, and guaranteed against deterioration for up to 50 washes.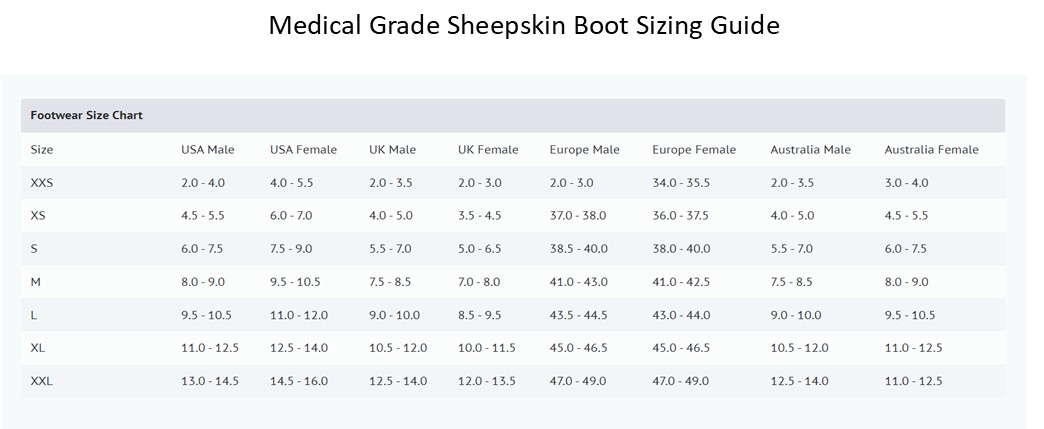 Slimfit for Active Use
The DiabPro has a thinner sole width than other Shear Comfort footwear styles, making it less bulky and easier to wear for active use.
Non-slip Rubber Sole
The non-slip ridged rubber sole of the DiabPro boot adds stability when walking, and means the boots can be used outside or inside.  
Complete Protection for Delicate Skin

The DiabPro gives all-round protection to the feet and ankles for Diabetic feet or otherwise delicate skin. All seams are placed on the outside of the boots, so sheepskin is all your feet will feel.
Benefits of Wool:
• Regulates temperature
• Wicks moisture
• Reduces shear and friction
• Redistributes pressure
Click here to read a full article about the Benefits of Wool including: Properties of Wool, What is Shear Comfort?, Australian Medical Sheepskin, and Our Commitment to Wool Quality.

Shear Comfort XD1900:
Shear Comfort provides comfort, aids restful sleep and provides protection from skin breakdown. This is because they utilize the natural properties of wool; distributing pressure, dissipating heat and water vapour, reducing friction and shear forces making it a good skin interface. They are also easy to wash and maintain.
Shear Comfort products incorporate Australian Medical Sheepskins, and Shear Comfort XD1900, an innovative and advanced woven wool product that boasts a density of 1900gsm along with 30mm of pile compared to most other woven wool products that only range from 300-500gsm. XD1900 is fabric-backed medical sheep's wool with a fibre density higher than even the very best natural sheepskins – which gives it superior pressure redistribution properties and improved comfort.
Care Instructions:
• Shear Comfort is as easy to care for as your regular clothes. All Shear Comfort sheepskins have the ability to be washed at 80° C, effectively killing bacteria without shrinkage. The sheepskins are warrantied against being washed 50 times at this temperature without any detrimental effects to the item.
• Drying instructions: Shear Comfort products may be tumble-dried warm, without exceeding 60° C. To air-dry Shear Comfort overlays, hang fleece-side down and away from direct sunlight or heat sources.
• Do not iron or bleach
• For further care instructions, click here
Product Code:
HIA 003401 (Medium)

HIA 003418 (Large)
HIA 003425 (Extra Large)

Available in

Medium, Large and Extra Large